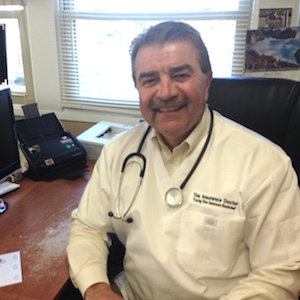 Hi there, I'm Tom Larsen, President of Larsen Insurance. Thanks for stopping by!
I think it's important in life and especially in the insurance business that you know a little bit about the people and companies you're doing business with. With that in mind, I wanted to take a moment and give you a little background on myself, and how my insurance agency got started.
I caught the entrepreneurial bug at the early age of 22. I bought a local neighborhood bar on Buffalo's east side and then at 25, bought a second bar on the south side of Buffalo. I had lots of fun running these establishments, but in that line of work it eventually burned me out.
At 32 I started my second career in insurance. Since I was a commission only "producer" in the property and casualty business, I tended bar, refereed hockey and owned some rental properties to keep the bills paid. Thankfully, my P&C insurance business began to flourish inside of my friend's insurance agency, as I was allowed to run it like my own business within his business.
Here's an interview I too part in on The Market Domination talk show with Seth Greene
Taking the big step
Once his son became old enough to enter the insurance business, I started to look for opportunities elsewhere. The purchase of an office building in 2003 precipitated my move to start my own insurance agency on April 1st, 2003.
Our agency, which we like to dub "The Larsen Protection Team" specializes in preferred personal insurance policies (auto, home umbrella), Landlord Insurance, Restaurant Insurance and small Contractors Insurance policies.
Outside of insurance, I still play baseball 2 days per week and play in an over 40 tournament each summer in Cooperstown, NY – home of the Baseball Hall of Fame.
This old (59) catcher can still get down and block the ball in the dirt!
My wife and I reside in Williamsville, like to go to festivals, walk the village near home and enjoy wine.
We are also know to go to the casino once in a while to play my favorite game, Mississippi Stud. Our 28 year old daughter is a graduate of Boston College (2011) and has a Master's degree from Loyola College in Chicago, where she now resides.
Thanks again for taking interest in our agency. We'd love the opportunity to help you with your property insurance needs. 716-684-3203