Most consumers still don't know there is an endorsement to a homeowner policy called – Underground Utility or Service Line Coverage. Since some of the national insurance companies don not offer this yet, it isn't widely known homeowner coverage available.
For $20 (some companies it's $25), a homeowner get's $10,000 to repair water lines that may rot or collapse, sewer lines that may collapse or electrical lines that may short underground.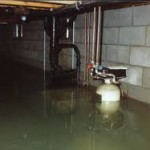 This is an endorsement and not an automatic coverage included in a homeowner policy. You need to ask your insurance agent about this coverage. And it is well worth the $20 per year add on. For example, if your 20 year old furnace rots out, it is a maintenance type issue and you must replace it yourself – not an insurance issue. But this new service line endorsement, covers rot, decay, collapse….something other things in your house don't.
Underground Utility or Service Line Coverage Available
We had a client whose water line ran underneath the sidewalk and the digging, replacing and new sidewalk were all covered by underground utility. The total bill came to $7,900, so it was covered in full, less the $500 deductible.
All homeowners, especially in city properties with older pipes, need to have this endorsement in place. It is very inexpensive, has great coverage and is valuable at a time in need.
Underground Utility or Service Line Coverage Available
Tom Larsen