Swimming pools and landlords
That time of year when your tenants will be asking you, "can I get a swimming pool for my kids"? When one of our landlord insurance clients calls us with that question, my answer is always NO. Why? Why would you put yourself in a position to be the party of a lawsuit?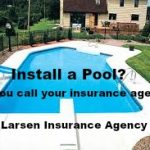 Even if the tenant has renters insurance (which 82% don't), any injury in or around that pool will bring a lawsuit to the tenant and the landlord. The courts will then determine what percentage each party is liable for the insurance claim.
Pools bring unwanted guests and neighbors, friend, relatives to "party" at the pool. For a landlord, it really is a no win situation. You will always be a party to a lawsuit even if the tenant is 100% at fault. How many personal injury ads do you see every day on TV and in social media?
Swimming pools and landlords
We are landlord experts, are a fellow landlord and know the marketplace of real estate. Trying to keep a landlord out of court and out of a claims situation is how we help. Making sure you have the best possible real property insurance protection without making you liable for negligent claims.
Tom Larsen
Need help with insurance? GO HERE NOW!