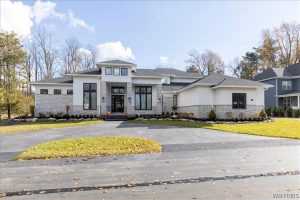 Whether you rent out your investment property to short-term guests or long-term tenants, making a few upgrades to the exterior is a great way to boost your property value and attract high-quality renters. The exterior of your property can leave a lasting impression on potential renters or vacation rental guests.
Make sure that impression is a good one! From landscaping to lighting, these upgrades will help you create a welcoming and attractive exterior that can increase your income property's value and attract desirable tenants. Here are some tips from Larsen Insurance to help you get started.
Planning Your Property Improvements
Before you begin any exterior upgrades to your income property, be sure to plan your projects carefully. This includes assessing the current condition of your property, setting a budget and timeline, and prioritizing upgrades based on ROI. One effective way to streamline the planning process is by using digital document management tools. These tools allow you to create, store, and share digital documents, such as spreadsheets or checklists, that can help you stay organized throughout the project. Use these for organizing bids, receipts, expenses, invoices, and other important documents. If you wind up with a lot of separate files, merge them into single PDFs to help with searching and to make your life easier.
Also, a home management app can make your life a whole lot easier by providing you with a wide variety of resources to help you get things done, from high quality how-to videos on repairs to professional advice from the experts who can walk you through the process. In fact, this could help save you money in the long run by helping you get repairs done correctly the first time.
Build an Outdoor Entertainment Space
Building an outdoor entertainment space is a great way to give your property that wow factor. Consider having a custom-built deck constructed on your property to provide your renters with a comfortable outdoor living space where they can relax, socialize, and enjoy the surroundings. Believe it or not, you don't have to wait for warmer weather to get started. Winter is one of the best times to build a deck! When you're ready to break ground, hire a reputable and experienced contractor to ensure everything goes smoothly and you're happy with the finished product.
Hang Metal House Numbers
Hanging metal address numbers is a simple yet effective way to make your income property look more professional and presentable to potential tenants. Outdoor cut metal sign numbers are a popular option for displaying your address because they are available in a wide range of metals, including aluminum, stainless steel, copper, brass, and bronze. These numbers are not only durable and weather-resistant, but they also add a touch of sophistication and style to your property's exterior.
Invest in Landscaping
Landscaping improvements can have a significant impact on your home's curb appeal. Buttonwood Property Management explains that a well-maintained lawn and garden will create a welcoming atmosphere and make a great first impression on renters. If you're planning on adding plants or a garden to your property, click here to consult online resources that offer expert gardening advice and guidance on choosing plants. These resources can provide valuable information on the best plants and flowers for your climate, soil type, and sunlight exposure, as well as advice on watering, pruning, and other essential maintenance tasks.
Upgrade Exterior Lighting
Improving the exterior lighting on your investment property can boost both its curb appeal and security. As Excalibur Homes explains, property owners should use lighting to highlight the best features of the home and landscaping, but also to deter potential intruders. Not only will this make your investment property feel more high-end to potential renters, but it will ensure your guests or tenants feel safe there.
Investing in high-ROI upgrades for the exterior of your income property is an excellent way to enhance its curb appeal, increase your property value, and attract high-quality renters. Consider adding metal house numbers, upgrading your landscaping with plants, and adding outdoor lights to showcase the property's beauty. Ultimately, these investments will enable you to charge higher rental rates and boost your bottom line!
Larsen Insurance is here to get you the coverage you need at the prices you deserve. Call 716-684-3203.