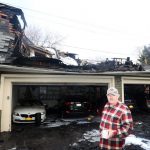 Cute doesn't exactly explain how the coverage's apply. Is the "other structure" (in this case a garage called "other structure" on your homeowners insurance, could be a shed too) covered in this fire loss – yes. But what about the contents? Those auto's you see must be covered under the comprehensive portion of auto insurance – NOT homeowner's insurance. And if they were in there for storage, still need auto insurance coverage.
If they were an RV, still need RV insurance. Or a boat – needs boat insurance. Snowmobile, Quad, Motorcycle, Seadoo…..all need their own insurance policy, not covered in this garage fire. So you may see the cute insurance commercial on TV but it doesn't tell the whole story. Don't take the information in an ad to be 100% accurate.
Be a smart insurance consumer and deal with an insurance professional.