Homeowners not covered by all this spring rain.
Most of the south, midwest and east is experiencing lots of rain this spring. All this rain, the overflowing of stream, creeks, rivers is considered……Flood! And on all homeowners policies, in every part of the country, flood is an exclusion on a homeowner policy.
The National Flood Program was created to help offset the fact that insurance companies exclude flood coverage from their policies. That is the good news, the bad news is when a flood event is approaching, it is too late to buy flood insurance. There is a 30 day waiting period for flood insurance to take effect, so one cannot just buy it when heavy rains start approaching.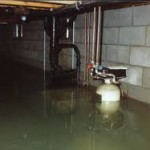 Flood insurance is a good idea for any homeowner who lives near a creek, stream or river and they are not on higher ground than that body of water. Many homeowners with a water "view" consider that to be an important part of owning that particular home but then never think about flood insurance.
Homeowners not covered by all this spring rain.
Smart insurance consumers will take on some of the risk themselves and use a $2,500 deductible or $5,000 deductible, so only in the worst case flood, will they need to use this insurance. Those willing to take on some of the risk themselves, get rewarded with a much less cost of flood insurance.
As always, you need to be a smart consumer of insurance.
Tom Larsen, Independent Insurance Broker